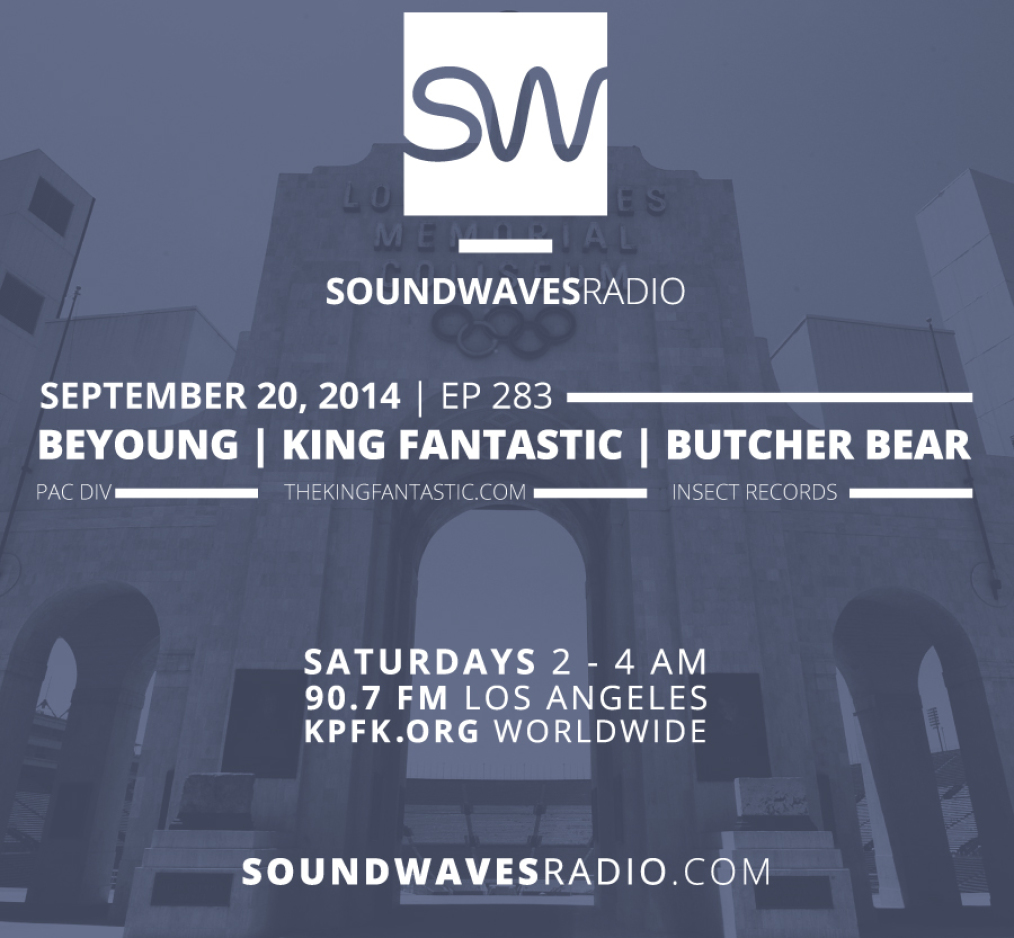 9.20.14 Episode 283: King Fantastic, BeYoung (Pac Div), & Butcher Bear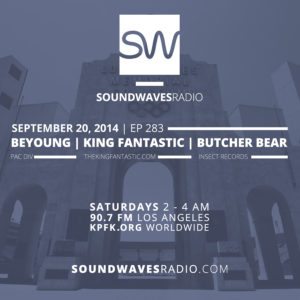 Soundwaves got the exclusives!!
This week's episodes features @kingfantastic, @insectrecords, & @beyoungn.
01:30 – 30:00 – King Fantastic Interview & Debut New Music
King Fantastic recounts their initial meeting. Killer Reese One & Troublemaker talk about how they recorded their 1st LP in a matter of 10 days. They even give you a preview of their new album "The Great Man Theory"
30:00 – 55:00 – Exclusive Mix from Butcher Bear
Grand Puba "Check The Resume"
AADM OUR HATLEY "Check The Resume" (IRS-014)
Audopilots "Analog Hammers" (IRS-025)
J-1 THE DEER "preview drum snip"
Butcher Bear w/ Guilty Simpson & NickNack "Close Curtains"
(OGMIX) (IRS-015)
Chanes "Tables" (IRS-027)
Lo Phi "Accidental Axis" (IRS-047)
Slautah "Only Yourz" (IRS-031)
A Better Tomorrow "3 Wheel Motion" (IRS-032)
soundfounder "Big Hill On Kinney" (IRS-048)
Kev Brown "It Never Ends" (IRS-010.5)
Butcher Bear "No Gravestone" (IRS-021)
Sir Froderick "Subtle Beats" (IRS-024)
Muamin Collective "J-1 4 tHEHomie" (IRS-034)
SelfSays "Sleeves"
Ras G w/ Rogue Venom "Jet Rendered" (Raw Fruit Version) (IRS-045)
J-1 THE DEER "Stratosphere"
55:00 – 1:05:00 – Butcher Bear Interview
1:07:00 – 1:45:00 BeYoung Interview / Daily Bread Preview
BeYoung talks about his upbringing and the start of Pac Div.
He goes into the adventures of the crew, his favorite projects from the crew, and first time performing.
We also get some exclusive music from his forthcoming, "Daily Bread" project.
Sit back and enjoy and as always TURN IT UP!