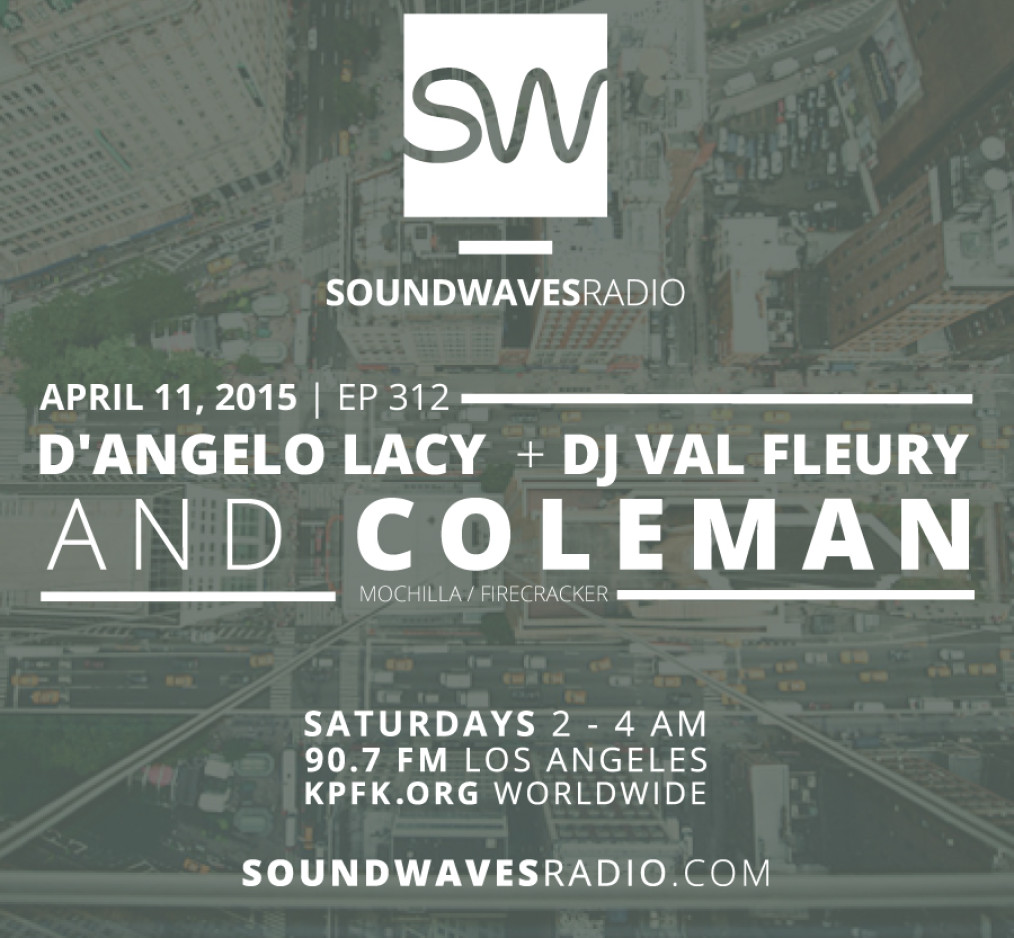 4.11.15 Episode 312: Coleman, D'Angelo Lacy & Val Fleury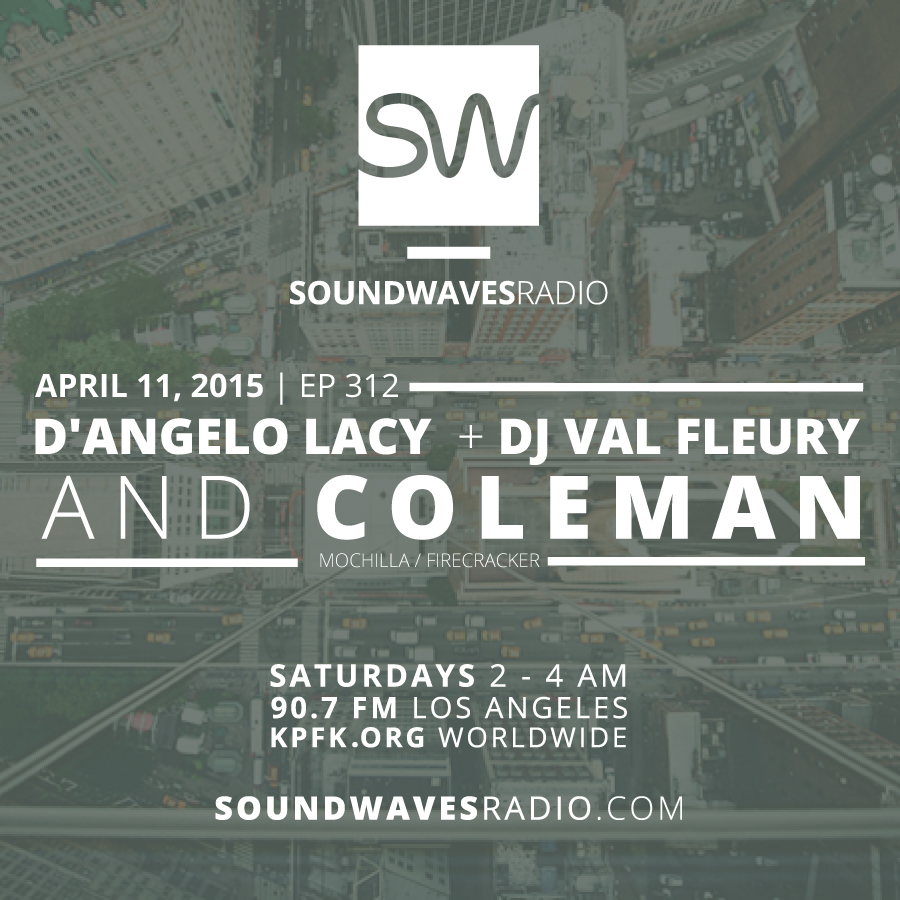 Hometown hero Eric Coleman (Mochilla)rocks a live, future-bass Dj set in the @kpfk studios, then talks shop about his recent travels to Dubai, upcoming projects & photographing Kendrick Lamar for the cover of Complex magazine.
Next, Dangelo Lacy gives an in-depth (& at times, hilarious) interview about touring with Twin Shadow, the importance of connecting with his fans, new music & what it was like to have his single premier on the hit, tv-drama Empire.
We round out the show with a 30-minute mix from the uber-talented Val Fleury, along with a short discussion about her world takeover & what's next for the Dj-producer.
Enjoy!
0:00 – 2:55 Show Intro
2:55 – 43:40 Coleman DJ Set & Interview
Tiffany Gouche – Bang Bang
Tek Lun – CLOX (5 Thirty)
Mr Carmack – Move Like Lions Do
Jordan Rakei – Imagine (Moods Remix)
oriJanus – 40
Von D – You're The One ft. PhePhe (Fortune Remix)
Erdbeerschnitzel – With Level Hopes
Shur-I-Kan – Jazz Club
Unknown Artist – Doubledutchbus (Quick Edit)
Sam Gellaitry – House Idea New
AbJo – Magalenha Refix
Alma Brasileira – Pra Oxala
43:40 – 1:02:00 Francesca Harding Selector Set
Black Gatsby – Get Down
Freddie Scott – You Got What I Need
Camille Yarbrough – Praise You (Jim Sharp Edit)
1:02:00 – 1:22:25 – D'angelo Lacy Music Set & Interview
Zed's Dead – Lost You ft. Twin Shadow & D'Angelo Lacy
Black Gatsby – Fist Full A Dollas
1:22:25 – close – Val Fleury DJ Set & Interview
Supernatural (Pomo Remix) – AlunaGeorge
There's No Love – Moon Boots
I Wanna Feel – Secondcity
Dont You Know That (Woo2tech Remix) – Deepjack & Mr.Nu
1998 (Cut Snake Edit) – Chet Faker
Bother – Les Sins
The Break Up – Detroit Swindle
Voyage – Greg Mak
Desire (Tourist Dub Remix) – Years and Years
Whip (Jimmy Edgar Remix) – Aden
Retro City (LOUDPVCK Remix) – Adventure Club
Where Do You Know Me From? – Stormzy
Dimalo (prod by Snakeships) – Tory Lanez
No Type – Rae Sremmurd
Clint Eastwood (elayche Remix) – Legend4ry
Icancu – Galen
Rain Dancing – Val Fleury x ESCQ
Rhythm – MNEK