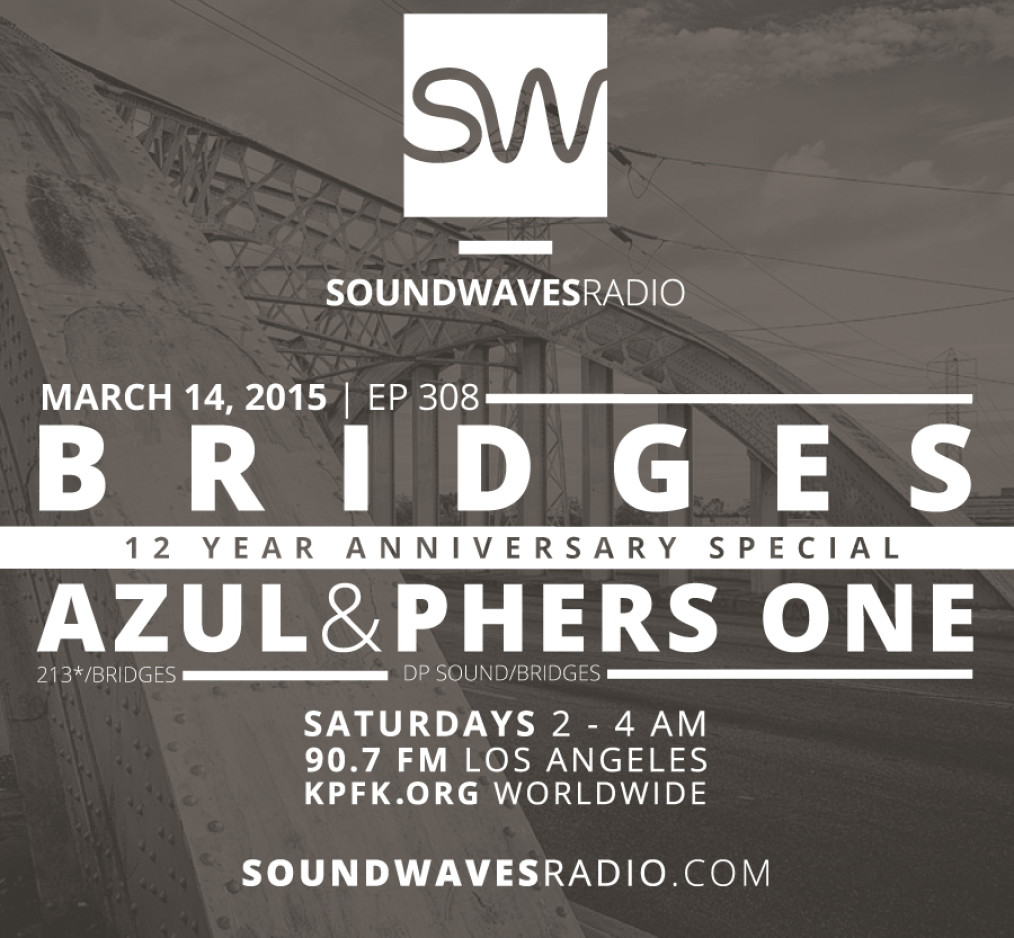 3.14.15 Episode 308: Azul & Phers One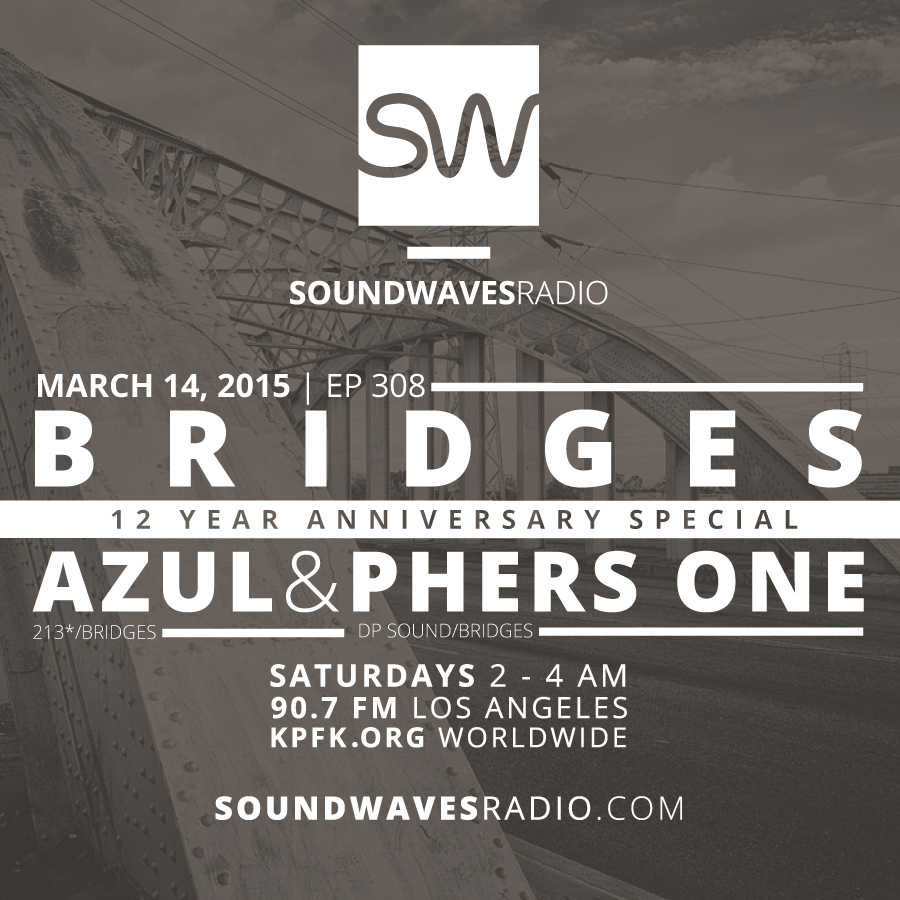 Episode 308 – Azul & Phers One – March 14, 2015 by Soundwaves Radio on Mixcloud
On this particular episode of Soundwaves the SW crew and the Bridges crew came together to Celebrating 12 years of the Los Angeles event. Big ups Bridges residents Azul and Phers One for swinging by the studio and laying down two completely different sets. Lot's of sounds for everyone. Turn this episode way up and enjoy!
Catch up with Azul:
www.azul213.com
Catch up with Phers One:
twitter.com/phersone
Show Intro – 00:00 – 02:12
Great Dane – My People Outside
Azul Live Set: 02:12 – 23:21
Brandy- Right Here (11thirty Remix)
Janet Jackson – Any time, Any place (starRo mix)
Tory Lanez – Ride (Falcons mix)
R Kelly – Legs Shaking (Promnite Remix)
Partynextdoor – Recongnize (Promnite Remix)
Eric Bellinger – Or Nah (DJ Tricks Remix)
Drake feat. Jay Z – Pound Cake DJ Tray & Kayy Drizz Remix)
Transition: 23:21 – 29:08
Great Dane – My God
Great Dane – Cosmotronique
Phers One Live Set: 29:08 – 58:41
1. DP sound dubplate- Luciano
2. DP sound dubplate- Norrisman
3. DP sound dubplate- Norrisman
4. DP sound dubplate- Warrior King
5. DP sound dubplate- Gappy Ranks
6. Bumpy Road (Augustus Pablo edit) – Malkovich
7. Bigger Than – Dionne Reid x Dead Prez
8. Oh Boy (Ivy Lab's 20/20 bootleg) – Cam'ron
9. Whoa! (Ivy Lab's 20/20 bootleg) Black Rob
10. Double Trouble- Bounty and Octane (0-100 remix)
11. The Truth (Ghetto)- Mavado (loaded remix)
12. DP sound dubplate- Mr. Easy
13. Mad Playgroundizm- Channel Live
14. Speak My Peace (King Most re-direction)- B.I.G. x Common
15. Giant Steps (D. A. edit)- Joe Pass
16. Don't Look Any Further (D. A. edit)- Dennis Edwards
17. Holy Calamity (Bear Witness 2) featuring DJ Shadow & DJ Quest – Handsome Boy Modeling School
18. Scrabble (D. A. edit) – Rene Costy
19. I Wanna Stay (D. A. edit)- Love Unlimited Orchestra
20. Hung up on my Baby (D. A. edit)- Isaac Hayes
21. Blind Alley (D.A. edit)- The Emotions
22. Hear you Callin- Sevnthwonder
23. Wifey (Truffle Butter remix) – Alkaline
24. I Wanna Thank You- Alicia Myers (Alkalino rework)
25. Lights, Camera, Action (Pickster Blunt Club remix)- Mr. Cheeks
26. One Love (Doc Adam bootleg)- Nas
27. Cherchez la Ghost (Bumen System remix)- GFK
28. Keep it Thorough- Brando
29. Thinking About You (DJ Sliink remix)- Frank Ocean
30. Apparently (King Shameek remix) – J. Cole
31. Beloved (take two) – DJ Technics
32. Nu Nu (DJ Ayres club edit)- Lidell Townsell
Azul and Phers One Interview: 58:41 – 1:14:14
Orijanus – Bonita
DK The Punshier – AYTS
Orijanus – 6
J Dilla – Featuring Phat Kat
Gangstar – All 4 The Cash
DK the Punisher – Missing
14KT – Ain't it Funny
Dudley Perkins – Testin' Me
Val The Vandle Live Set: 1:14:14 – Close
BJ The Chicago Kid – Its True
Action Bronson – Baby Blue Ft Chance The Rapper
CyHi the Prince – What We Have
Mibbs – I.H.U.G.
Ty Dolla Sign – Stand For
Belvi – Hot Damn Ft Richard Wright
IAmSu! – Nothin Less
Cam Gnarly – Levitate
Kay Cola – Not Ok Ft French Montana
Sidibe – Every Day
Miguel – Like You
Murs – The Strangest
Open Mike Eagle – Dark Comedy Late Show
THC – Perfect Ft Kent Jamz & Childish Gambino
Pistol Mc Fly – God Damn Ft Coolroy
Awfully Awesome – 98 INSTRUMENTAL
Thank you so much for tuning in and supporting!