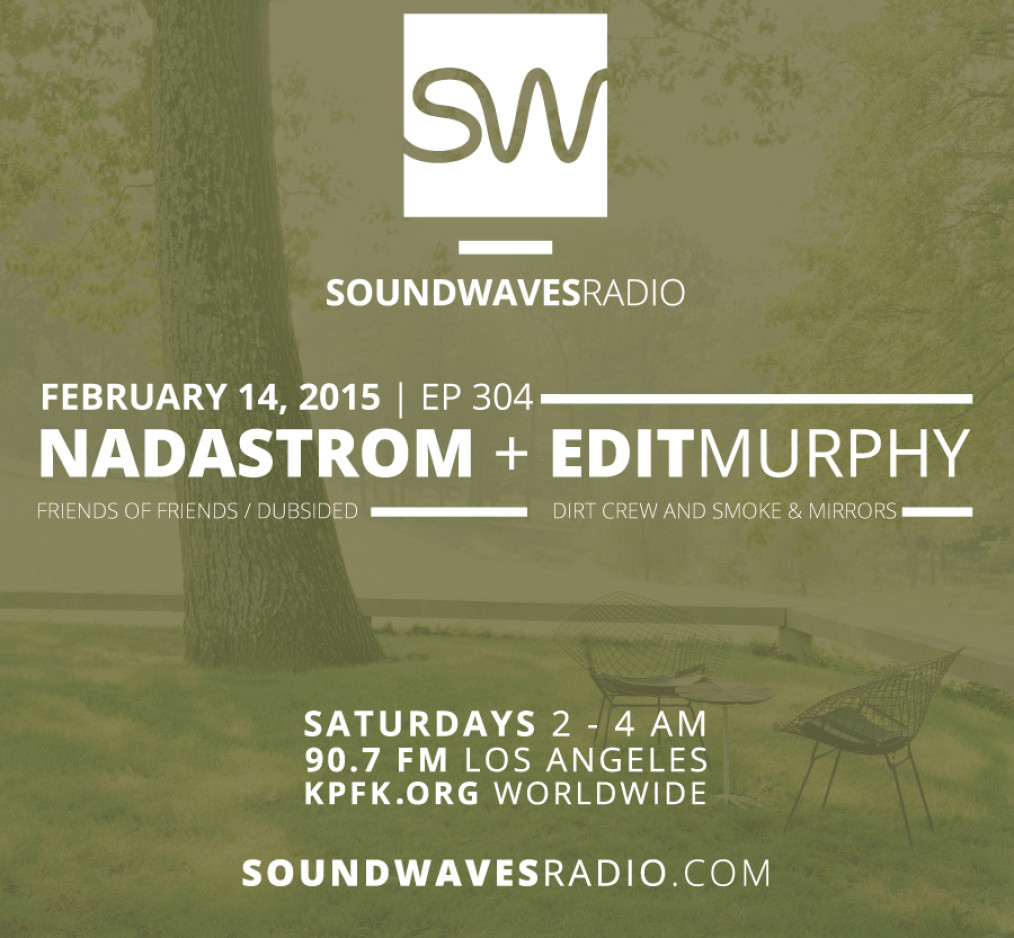 2.14.15 Episode 304: Nadastrom and Edit Murphy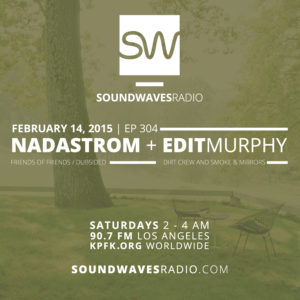 Episode 304 – Nadastrom & Edit Murphy – February 14, 2015 by Soundwaves Radio on Mixcloud
It was a Valentine's Day for the books!
We here at Soundwaves have nothing but love & respect for the Dj/Production duo known as Nadastrom, so welcoming them to the studio was nothing short of epic. Matt Nordstrom & Dave Nada opened the show with a killer, all-vinyl set before jumping on the mic to talk about their upcoming, self-titled release due out on Friends of Friends/Dubsided records on February 23rd. Their set was just as on-point and eclectic as you'd expect from the super talented & always unpredictable duo and we had more than a few texts & emails come through from listeners going bonkers over the tracks. Trust us, you wanna hit that play button!
During the final hour of the show, we premiered a mix by heavyweight Edit Murphy, then ended the show with a few tracks from host, Dj Panamami.
Catch Up With Nadastrom:
www.fofmusic.net
@nadastrom
Catch Up With Edit Murphy:
www.facebook.com/editmurphy
@editmurphy
Nadastrom Exclusive Mix
1. Black Heat – "Street Of Tears"
2. Erykah Badu (Basement Boys Remix)- "Bag Lady"
3. Masters At Work – "Zoe"
4. George Benson – "El Barrio (MAW mix)"
5. Taxi Driver Soundtrack – "The .44 Magnum Is a Monster"
6. The Rotary Connection – "Life Could"
7. Free Association – Zulu Salute"
8. Skyy – "First Time Around"
9. Donald Byrd – "Think Twice"
Edit Murphy Tracklist
** Coming Soon **
Dj Panamami Tracklist
1. INXS – "Need a 303 Tonight (Dr Packers Acid Rub)"
2. Dave Nada – "You Take It (Moombahton Club Dub)"
3. Soul II Soul – "Back To Life (Late Nite Tuff Guy Edit)"
As always thanks for tuning in and please always remember when listening to Soundwaves … TURN IT UP!