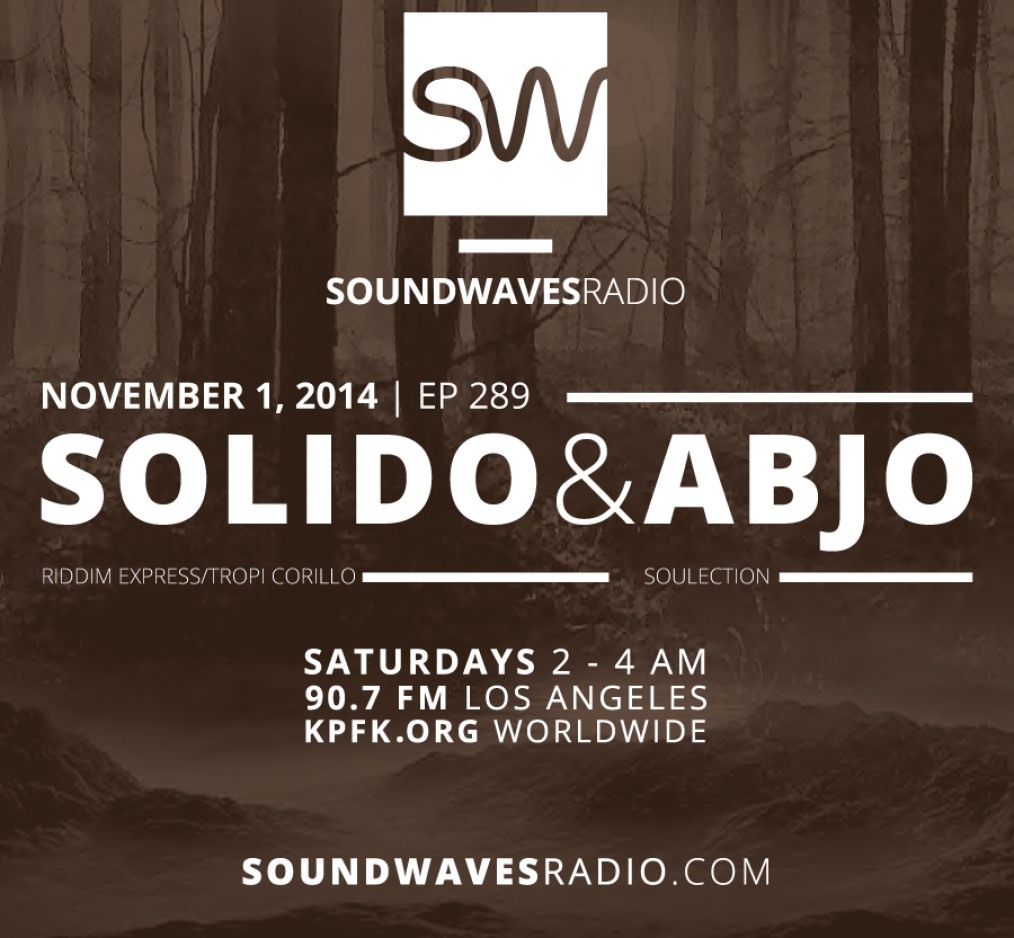 11.1.14 Episode 289: Solido & Abjo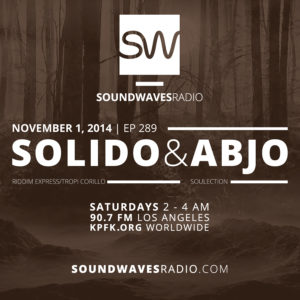 Day or night, rain or shine, the residents of Soundwaves Radio work hard to bring our listeners the best in new music, while providing a platform for musicians and Djs to share their craft with the world. This Halloween holiday was no different.
Solido, Dj and percussionist extraordinaire, came through and dropped a live set of Panamanian reggae and dancehall for the Soundwaves audience. It was church! After speaking to Solido about his upcoming projects, resident Djs Panamami & Frank Foreal took respective turns playing their own sets, highlighting the music that the two have had in rotation as of late. Rounding out the show was none other than Abjo of the Soulection crew, who showed & proved that he is a force to be reckoned with, showcasing a solid Dj set that featured much of his own stellar production.
Catch up with:
Abjo: @midnightabjo
Panamami: @djpanamami
Frank Foreal: @Frankforeal
Opening Track: FKA Twigs – Lights On (Sega Bobootleg)
Solido set 4:24 – 45:38
1. Kafu Banton – Ella ft Almirante
2. El Tobe Love, El T5 & Dillinger – Grande Impactante
3. El Kid – Algo Bonito
4. Suku Castro – Q-Leo Rico
5. Blackprince – Ya Yo He Kmbiao ft K4G
6. El Estudiante – Disculpa ft Suku Castro
7. Kafu Banton – Hasta El Metal
8. El Boy C – Dejala Corre ft. El Yerbaklan
9. Akim – Sola Solita (La emboscada)
Dj Panamami set 45:38 – 59:48
1. Yael Naim – Slide feat. Readymade FC
2. Chancha Via Circuito – Cumbia Murguera
3. King Coya – Villa Donde
4. Thievery Corporation – The Forgotten People
5. Massive Attack – Black Milk
6. AFTA-1 – Nightlight
Frank Foreal set 59:49 – 1:29:08
Tracklist TBA
Abjo set 1:30:48 – 2:04:15
1. Freddie Joachim – Baiser
2. Noo-Bap – TOUCHÉWAV
3. Mike Gao – [1] pivot
4. Mike Gao & B. Lewis – Freaky Girls (Instrumental)
5. Stro Elliot – Turn On Some Marvin
6. AbJo – Reprisal (Radio Edit)
7. The Celestics – Uptempo
8. Mike Gao – [4] yo bae
9. Swarvy – Retro Grade
10. AbJo – Stepping Into Yestermorrow
11. ESTA – Ble$$ed
12. J-Louis – Can't You See
13. AbJo – Saudade
14. Disclosure – Voices (feat. Sasha Keable)
15. Koen – 986
16. Wilfred Geroux – Think About You
17. Zuper – Still Trippin
18. Tek.Lun – BAIEYAH???
19. AbJo – PHASED (Usher Vocal Cuts)
20. AbJo – LDYLND
21. AbJo – Infinite Y'all (Souls Of Mischief)