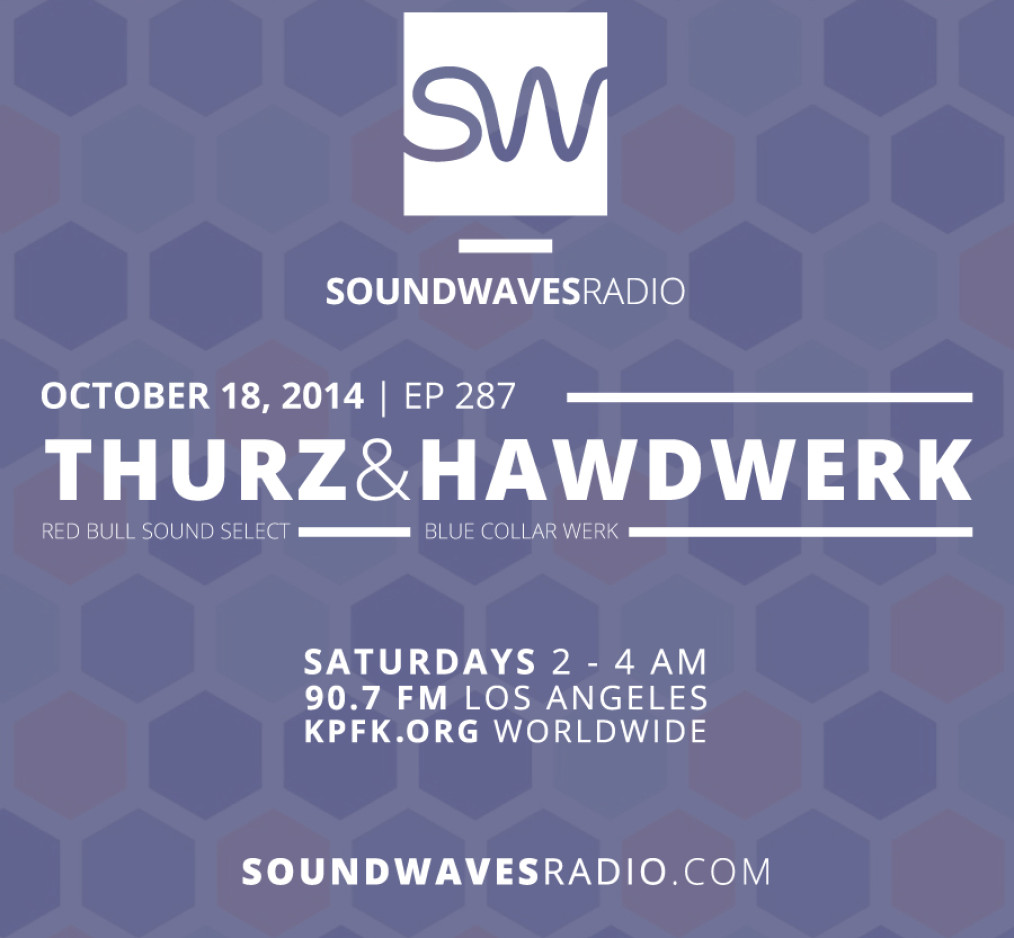 10.18.14 Episode 287: Thurz , Hardwerk, & Poetik Force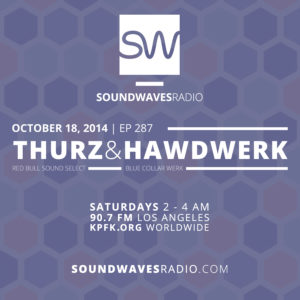 This episode features LA's rising emcee @Thurz. He stopped by the KPFK studios to let everybody know his upcoming "Designer" EP drops on Nov 4th. We talk about his beginnings, the formation of U-N-I, the disbandment, and his future.
We get an exclusive listen to a track of his produced by DJ BATTLECAT.
A few of our friends from West Covina, @Hawdwerk & @PoetikForce also came through to talk about their "More Peace" tour. Hawdwerk's recently dropped his "Call in Sick" EP, so he gives us some background info on that. Poetik Forces talks about his upcoming "Mirrors" LP
Tracklisting:
***THURZ SEGMENT***
00:00 – 02:30 Scoop DeVille – Beatau
02:30 – 06:50 Damani – Scoe's Special #9 Ft ill Camille & Thurz
06:50 – 13:00 Thurz intro & talks U-N-I
13:00 – 15:30 Thurz – "Dope"
15:35 – 19:15 Thurz discusses L.A. Riot
19:15 – 23:15 Thurz – "21"
23:15 – 27:20 Thurz – "Right Now"
27:20 – 29:30 Thurz brings up producers on "Designer"
29:35 – 32:07 Thurz Exclusive "Favorite Girl" Ft Kent Jamz (Produced by DJ BATTLECAT)
32:07 – 39:00 Thurz "Perfect Words"
***HAWDWERK & POETIK FORCE SEGMENT***
39:00 – 42:30 Hawdwerk "The Real"
42:30 – 45:00 Hawdwerk "I Don't Need Much"
47:00 – 53:20 Hawdwerk & PoetiK Force intro
53:30 – 57:07 Poetik Force "Know Thy Heart"
57:07 – 1:00:00 Poetik Force, Hawdwerk discuss "More Peace" Tour, "Call in Sick", & "Mirrors"
1:01:00 – 1:05:00 Hawdwerk "Whaddup" Ft Richard Wright
1:05:00 – 1:08:00 Who is BlakFace?
1:08:00 – 1:12:00 BlakFace "Stars"
1:13:00 – 1:16:00 Hawdwerk & Poetik Force EXCLUSIVE FREESTYLE
1:16:00 – 1:17:00 Hawdwerk & Poetik Force web details
1:17:41 – 1:19:00 Hawdwerk "All of Me"
***DJ VAL THE VANDLE SELECTOR SET***
1:20:00 – 1:20:00 Supa Good Dsmoke "Want You To"
1:26:00 – 1:30:00 Supa Good Dsmoke "Honey Jack"
1:30:00 – 1:33:00 Kendrick Lamar "i"
1:33:00 – 1:37:00 Schoolboy Q "Hell of a Night"
1:37:00 – 1:40:00 BeYoung "Cream of Wheat"
1:41:00 – 1:43:00 Teyana Taylor "Maybe" Ft Yo Gotti & Pusha T
1:44:00 – 1:47:00 Sens Musiq "Morning Time"
1:47:30 – 1:51:00 Tiffany Gouche "Lose It"
1:51:00 – 1:55:00 TiRon & Ayomari "No Filter"
1:54:00 – 1:57:00 BeYoung "Daily Bread"