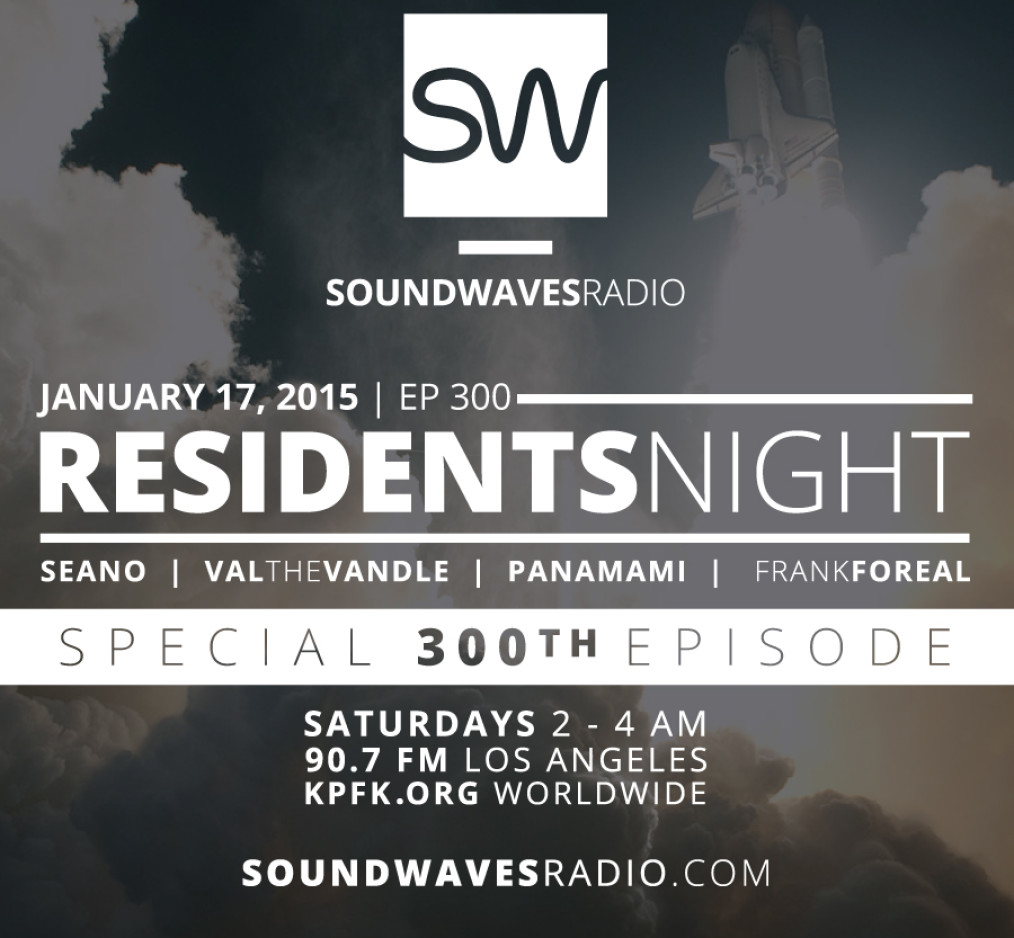 1.17.15 Episode 300: Resident's Night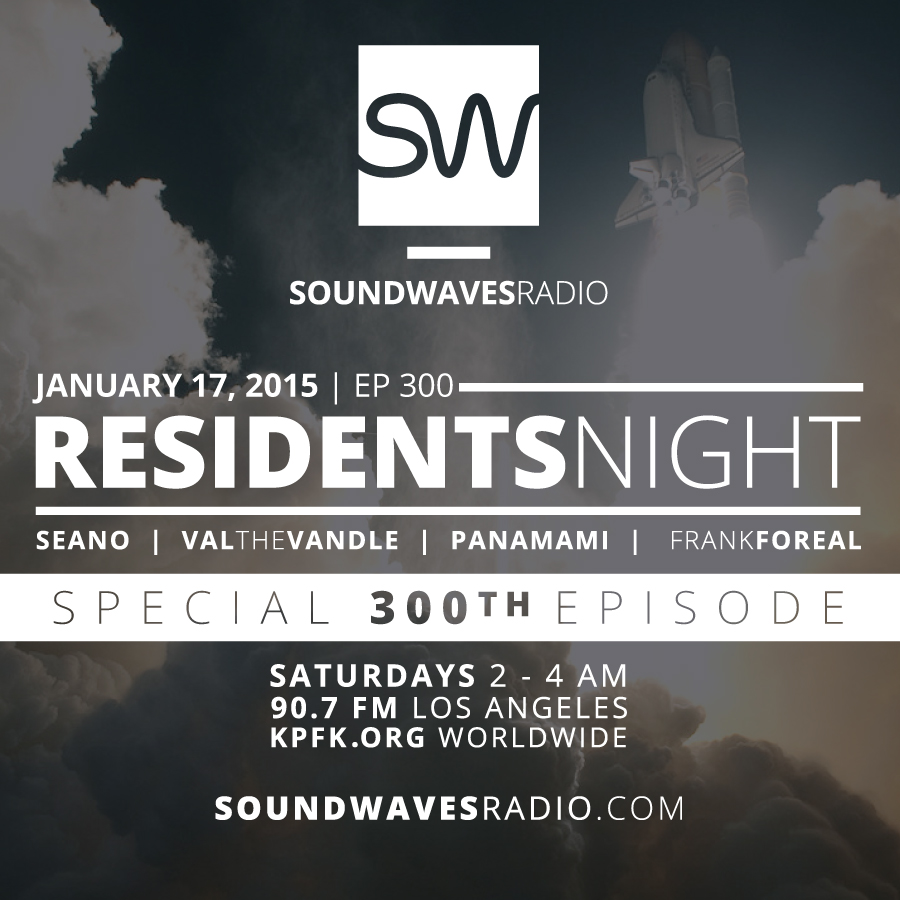 What an incredible feeling it was to walk into the KPFK studios to celebrate our 300th Episode. We owe so much to our supporters, KPFK, and each and everyone of our guests. We hope to still be on the air for another 300. This week we let all four SW residents stretch out. Truly, a something for everyone kind of evening. As always TURN IT UP and ENJOY … Here's to another 300!
Frank Foreal: 00:00 – 26:42
DJ Day – Land of 1000 Chances
Dday One – What We Do
Omas Keith – What You're Looking For
Damani Nkosi – Scoe's Special #9
Jungle Fire – Tropicoso
SOUNDSCI – Styles Dub Version
Yasiin Gaye – Time (To Get It Together)
Captain Supernova – Lost In A Dream
Seano: 26:42 – 56:12
Dudley Perkins – Love Your Nabor
DJ Harrison – Rule The World
D'Angelo & The Vanguard – Betray My Heart
Mndgn – Afternoon Shuffle
Orijanus – Bonita
Abjo – Reprisal (Radio Edit)
Sango – I1 – (Kaytranada x Mr. Carmack)
Machinedrum – Only 1 Way 2 Know
Les Sins – Bother
SBTRKT – New Dorp New York
Sammy Bananas – Feel House
Val The Vandle: 58:53 – 1:24:06
Aaliyah – Rock the Boat (Dam-Funk x ShashU Remix)
TLC – Creep (Kaytranada Remix)
Kaytranada – All Alright
Vic Mensa – Down On My Luck
Frank Ocean – Thinkin about You (Neil Armstrong Remix)
The Internet – Dont cha
Thurz – 21
Disclosure – Latch
Rochelle Jordan – 401
Kendrick Lamar – Poetic Justice + Ferris Rework
Panamami: 1:24:06 – Close
Ranil y Su Conjunto Tropical – Chinito Rulo (Dengue Dengue Dengue! Cumbiaton Refix)
Justo Betancourt – Cataño (Whiskey Barons Cumbia Dub Mix)
Bass Ill Euro – La Moombahsina
Schlachthofbronx x Sabo x Nadastrom – Negra Linda
Dance Kill Movie – Arakibombo
Thornato – Bayalibuza
Milton Cardona – Ebioso (Atropolis Global Bass Remix)
Joe Bataan – Fuego (Whiskey Barons Baile Mix)
Sunlightsquare – Vamanos Pal Monte
Yosaku + Bobbito – Malembe (Instrumental)
Thank you for tuning in.